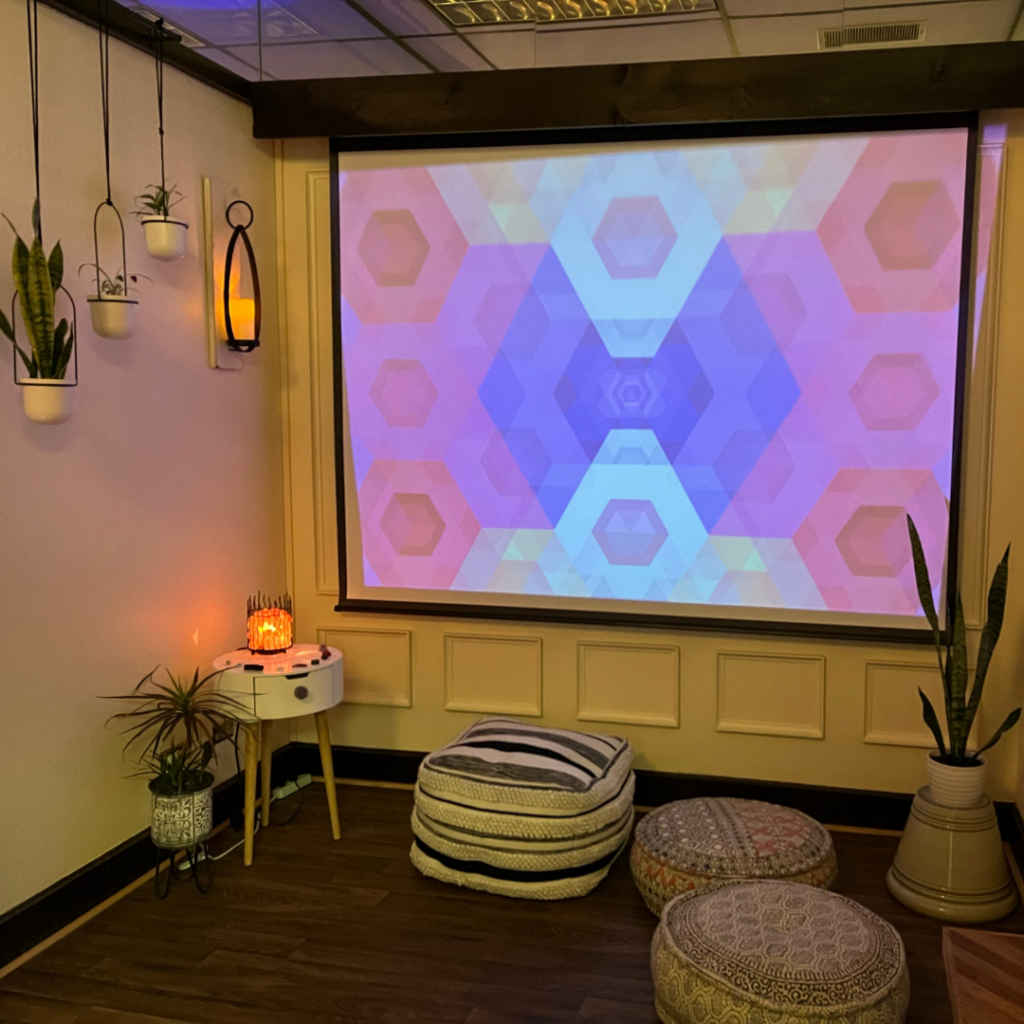 How does it work?
Choose guided meditations, background music/sounds, scents, ASMR/Mesmerize immersive scene screens, and other customizable features in our state-of-the-art immersive meditation room. This is a completely customized experience designed to nurture your mind, body, and soul. Book your session and go in solo or bring a family member.
Cost: Booking an appointment in the Zen Den is free. Tax-deductible donations of any amount are appreciated and help us provide this service to more families in the community.
The science behind the Zen Den
The Zen Den is equipped with everything a person would need to get into a state of deep relaxation. Earth elements such as Water (large waterfall fountain), fire (candles and incense), and even crystals add to the atmosphere of the room, making it a favorite of anyone who visits the Birth Justice Center. We have AV equipment in the room, including a projector for customized visuals and speakers for customized surround sounds. We even have an industrial grade diffuser and a variety of essential oils, sage and scents for you to choose from.
Visuals and sounds can be customized using the electronic kiosk in the room- with access to thousands of sounds, songs, ASMR screens and hypnotherapy screens. The first time you visit us, we'll help customize the sights/sounds/scents/atmosphere that feels good for you.
Why have a meditation room?
The Zen Den was born out of the desire to lower rates of stress amongst parents of color in Wichita. When we feel nurtured and supported, we are able to parent better. When we can find an outlet for our daily stress, we have lower rates of preterm labor, high blood pressure, and depression. We dream of creating a tomorrow in which parents AND babies of color are no longer more likely to die around the time of childbirth. The Zen Den is one of the ways we'll get there- less stress, less health complications, period.