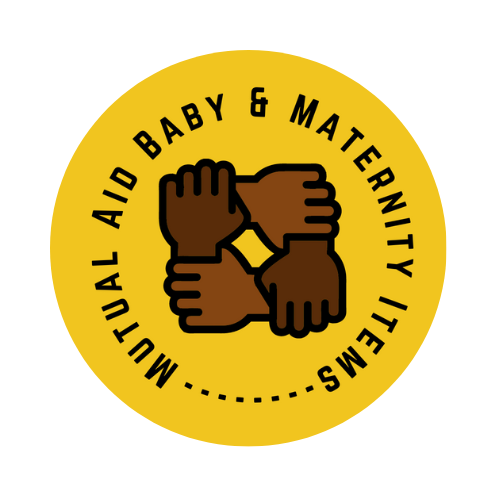 The Mutual Aid Baby & Maternity Items Project is a storehouse of donated baby and maternity items. It is housed within our new Birth Justice Center in Wichita, Kansas. Learn more about what we have and how to sign up below.
To donate items to the room, click HERE.
Who can get items from the Mutual Aid Baby & Maternity Items Room?
This project is health disparities-focused, so it is specifically aimed at providing Black/African American, non-white Latina/Hispanic/Chicana, and non-white Native/Indigenous individuals (according to the ethnicity listed on your driver's license or other ID) in Wichita with extra support for their overall wellness, which will help lead to more equitable rates of survival for birth givers and babies. We serve refugee and local parents and babies in cooperation with our community partners. In order to qualify, the parent must be one of the listed ethnicities who face higher risks of experiencing perinatal morbidity (serious health complications) or mortality (death).
What kind of items do we have?
Maternity clothing and postpartum supplies like pads, panties, and nursing bras
Adult hygiene items like soap, shampoo, toothbrushes, toothpaste
Baby clothes, blankets, bibs, shoes, etc.
Baby gear like highchairs, infant car seats, strollers, bassinets/cribs, toys, and children's books
Diapers, wipes, and baby hygiene items
Baby feeding items like bottles, breastmilk storage bags, burp cloths, formula (when in stock) and more
How do I sign up?
This service is available on a first come-first served basis during "walk-in" hours. See the calendars below to plan your visit.
What else should I know?
Delivery of baby items or transportation to our office is not available.
Who qualifies? Black/African American, Non-white Hispanic/Chicano, and Native American parents. We also serve refugee families directly referred by the IRC.
We can't guarantee that we'll have specific items in stock because items donated to us vary. For the best chance of getting the items you need, we recommend coming toward the beginning of walk-in hours because items are first-come-first-served.
No proof of income is required.
Pregnant people can pick up newborn items for their expected baby no sooner than ONE MONTH before their due date. This ensures that we can prioritize those who will use/need the items soonest.
If you receive things from this mutual aid effort, please share them with another parent when your baby outgrows the items. Passing items from family to family ensures that we all get what we need and none of us do without! When we think collectively, we all win.
What are the walk-in hours this month?